Where wellness meets your morning ritual.
Not Coffee, is a caffeine-free coffee alternative that looks, acts and tastes like coffee with 0% caffeine.
☕ Looks, acts and tastes like coffee: Our instant and ground herbal coffee alternatives mimic the taste, and satisfaction of making coffee without the bitterness, acidity, or caffeine in coffee and decaf.
🍃Antioxidant-rich: Not Coffee is packed with antioxidants, prebiotics, and essential vitamins and minerals. It's a wholesome alternative that fuels your body without caffeine.
🧘 Gentle on your wellbeing: Unlike coffee, decaf, or other stimulating substitutes, Not Coffee won't disrupt your gut, sleep patterns, blood pressure, thyroid function, or trigger anxiety. It's a nurturing and gentle replacement for your daily coffee fix.
Let customers speak for us
From the Not Coffee community
An amazing coffee alternative!
I've tried other coffee substitutes before so wasn't sure how this would go! I was very pleasantly surprised!!! I don't know how they got this to taste like coffee, but it does! It's an amazing alternative!!
Love the taste
I was looking for an alternative to coffee as I was planning to give up the real stuff for health reasons. I found Not Coffee and was skeptical but bought a couple of packs. Like any new drink it took me a couple of days to get used to the taste but a month on I really like it.
Tastes just like coffee!
This is so good! I have been searching for a caffeine substitute for years, this is the first that tastes just like coffee, the best part is I feel so good after it! Thank you!!
I love the vanilla
Got my first order of Not Coffee and enjoyed the original flavour but the vanilla is NEXT LEVEL OMG!!!! Would love to see the Pods in vanilla flavour :)
Love it so much!
Oh my!!! I'm so in love with my Not coffee. The taste is incredible and doesn't make me miss coffee at all. All the taste without the side effects of coffee. This is definitely my go to from now on.
My anxiety is gone.
I was hesitant to switch out my regular black coffee for Not Coffee but knew it had to be done. With regular coffee I was experiencing heart palpitations and jitters every morning on an empty stomach. I have seemlessly transitioned to Not Coffee and feel much better for it! No more jitters or anxiety. The taste is subtle too so it doesn't feel like you're drinking something totally different. Purchasing my next bags a week later as I know I will be using this longterm!
It's a game changer!
Since having to give up caffeine last December for health reasons, I've been searching (unsuccessfully) for a coffee alternative. I'm so happy I came across Not Coffee. I bought a sample bag of instant & upon my first sip I was blown away with how much it actually smells and tastes like coffee. I can now go back to having my coffee fix without the caffeine. I'm so in love with this product!! Thank you to the team behind Not Coffee - this product is a gamer changer!!
No Nasties.
Only The Good Stuff.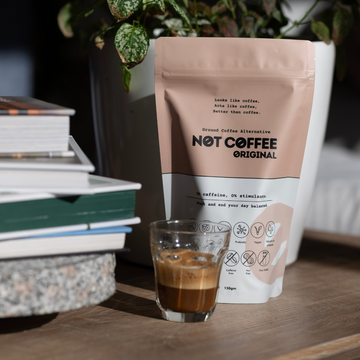 Not Coffee - A Healthy Coffee Alternative
Not Coffee is a healthy coffee alternative with no nasties, only the good stuff. Not Coffee is vegan-friendly and, unlike grain-based alternatives, is also gluten-free and contains no dairy, nuts, added sugars, preservatives or additives.
Our blend of premium ingredients are rich in prebiotics and promote gut health and wellbeing, so you can start and end your day balanced.​
Not Coffee is full of antioxidants, prebiotics, nutritious vitamins and minerals including vitamins A, B6, C, E, folate, potassium, inulin, manganese, iron, magnesium, selenium, calcium and zinc. Our ingredients do not promote acidity in the body, unlike coffee and decaf, making it great for those who suffer from heartburn or acid reflux.
Not Coffee - The coffee substitute that tastes like coffee.
Our herbal coffee blend is made from chicory root, carob and chickpea. This blend of premium and natural ingredients is rich in prebiotics and promotes gut health and wellbeing, so you can start and end your day balanced.
Not coffee is also a great caffeine-free coffee alternative. While containing no caffeine or other stimulants, Not Coffee is great for energy without the peaks and crashes that come with caffeine.
Not Coffee is available to buy online. Buy the best not coffee pods at our online store. We offer free shipping Australia-wide for orders over $100. If your order is under $100, shipping is a flat rate of $9.90. We also offer international shipping.